56 properties for sale in Llucmajor
Porta Mallorquina - your leading real estate agent in Llucmajor!
You are looking for a property for sale in Llucmajor, or have a question regarding our real estate offers in Mallorca? You were not able to find the ideal plot in Llucmajor? Then please call us on +34 971 698 242, or send us an email to info@portamallorquina.com. Our Porta Mallorquina real estate agents in Llucmajor will be pleased to asist and will help you find your dream property.
About Llucmajor and surrounding area: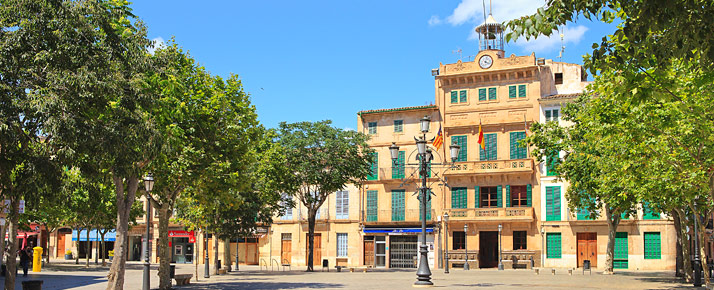 Placa de España in Llucmajor
Llucmajor is at 327 square kilometres, the largest municipality of Majorca. With only 37,000 inhabitants, it is relatively sparsely populated. Agriculture and livestock have impressed here everyday for centuries. The place name derives from the Latin ("Lucus Maiori" - large forest) and suggests that the area was once densely forested.
A City Steeped in History
The centre of this municipality is the city which can look back on over 700 years of history. In 1349 the fateful Battle of Llucmajor took place here. The independent Kingdom of Majorca then lost its sovereignty and became part of the Kingdom of Aragon again under Pedro IV. His cousin, Jaume III., lost his life in the battle and was initially buried in the parish church of San Miguel. Today, his body rests in the Cathedral of Palma. Llucmajor commemorated the last Majorcan king with a statue in Calle Esplanada.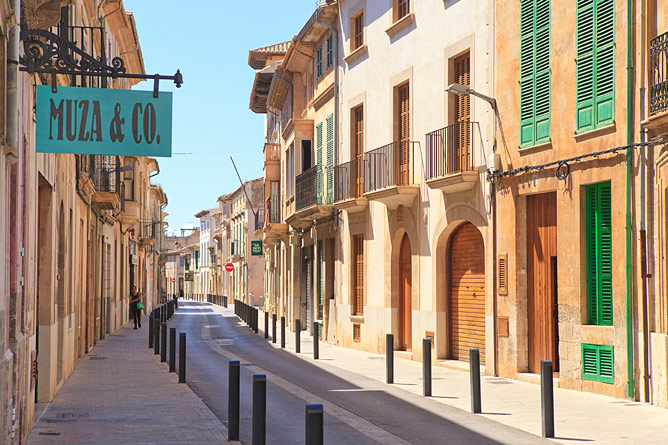 Authentic street
The Monastery Mountain of Randa
Llucmajor is located at the foot of the mountain monastery of Randa, where another famous island personality spent 10 years of their life. It is said that Ramón Llull (1232-1316 AD.), the Majorcan philosopher and theologian took time for inner reflection on the famous mountain. He lived a secluded life in a hermit's cave and there completed many of his writings. Here he experienced a vision of Christ, which prompted him to encourage missionary activity. After his death, numerous clergy followed his path and founded three monasteries on the Randa mountain over time, which can still be visited today.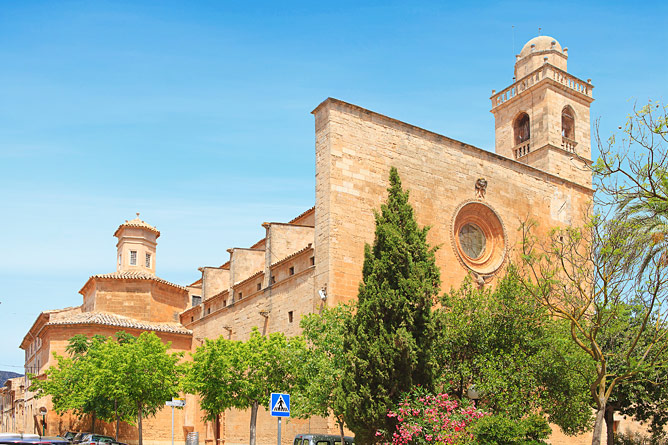 Monasteries in Llucmajor
A trip up the 543 metre high Puig de Randa is worth it if only for the fantastic panoramic views. The Sanctuary of Cura, a former monastery, which was extensively renovated in 2004 and has since then served as a hostel is also interesting,
Authentic Flair
Llucmajor itself is not considered a tourist magnet. The 10,000 residents of the checkerboard-like small town live mostly in functional two-to three-storey houses. The social scene can be found on the main market square, the Placa de España. Here the locals drink their café con leche preferably in the historic Café Colon, which opened in 1928.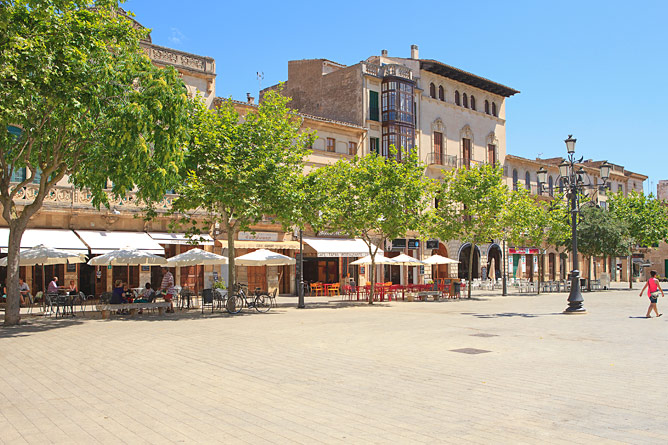 Market square in Llucmajor
From here you have a good look at the featured Hall, which was built in the late 19th century. Every Friday at the marketplace there is a popular fruit and vegetable market where the local farmers sell their goods. The traditional weekly market is popular with locals and residents.
A Charming Location
The latter live mainly in the hilly region of Llucmajor, which is studded with ancient country houses and modern luxury villas. Many owners of prime properties have recognised the assets of Llucmajor: authentic island feel and a picturesque countryside with excellent transport links. The motorway, the airport and the island's capital Palma are only 20-25 minutes drive away.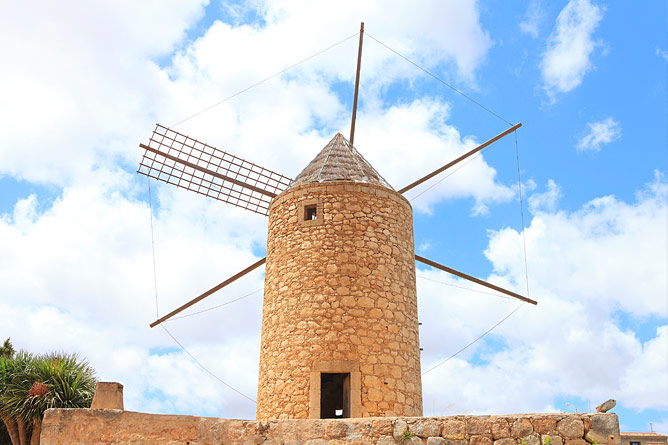 Authentic mill
A Tip for First-Timers
The best way you can explore the local area is through a finca holiday. Numerous finca hotels pamper their guests on the outskirts of Llucmajor. They range from the prestigious Son Julia Country House Hotel, a huge 15th-century country house hotels, to the ultra modern hotels such as the "Son Sampoli" to family country hotels like "Es Peleg" or the "Son Pieras".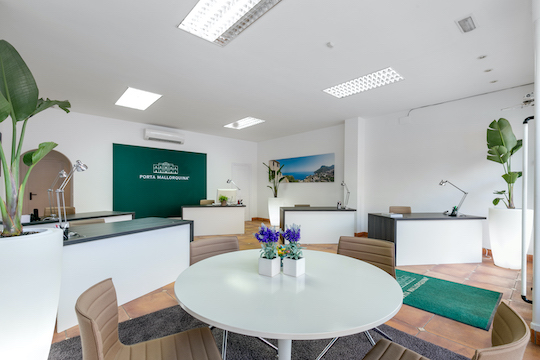 Porta Mallorquina in Llucmajor
Porta Mallorquina Real Estate
Ronda del Migjorn 115
07620 Llucmajor, Mallorca
Telefon: +34 971 669 815
E-Mail: info@portamallorquina.com
>