7 properties for sale in Sol de Mallorca
Real estate agent in Sol de Mallorca, Mallorca
You are looking for a property for sale in Sol de Mallorca, or have a question regarding our real estate offers in Mallorca? You were not able to find the ideal house in Sol de Mallorca? Then please call us on +34 971 698 242, or send us an email to info@portamallorquina.com. Our Porta Mallorquina real estate agents in Sol de Mallorca will be pleased to asist and will help you find your dream property.
About Sol de Mallorca and surrounding area: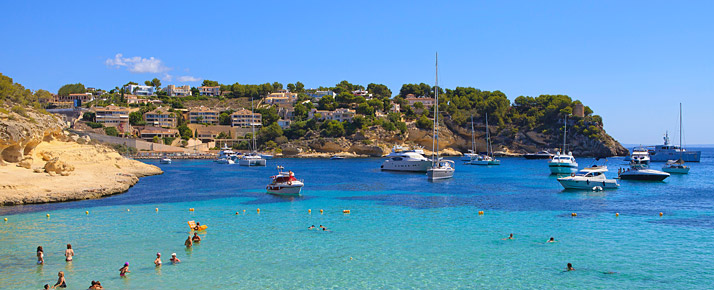 Seaview in Sol de Mallorca
The Majorcan sunshine seems to shine particularly strongly in Sol de Mallorca. Most of the 589 residents of the village live in splendid and modern villas, which are among the most sought after real estate on the island. Only 5 minutes drive from the hustle and bustle of Magaluf, Sol de Mallorca presents itself as quiet and tidy. Wide streets, wide sidewalks and large plots tell of a generous development plan. Here everything is on the big side rather than the small.
The location of the resort speaks for itself: Palma and the airport can be reached in 15-20 minutes and the beach is a doorstep pleasure. The houses on the eastern outskirts of the village are almost perched upon the so-called three finger bay of Portals Vells. Where once laboriously the "marés" sandstone was extracted, today bathers relax before the splendid backdrop of the turquoise sea.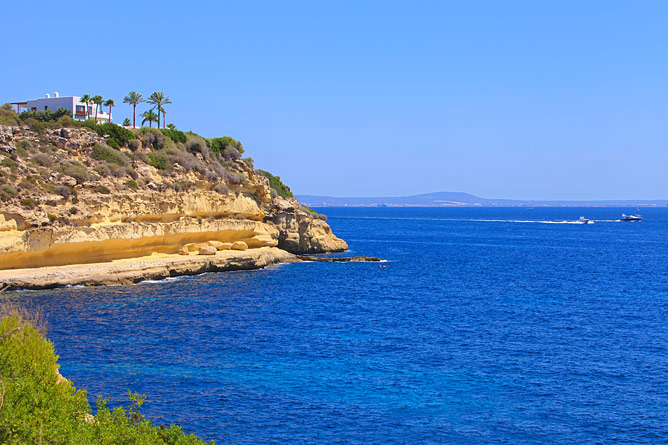 Cala Sol de Mallorca
From Sol de Mallorca you first arrive at the beach of Sa Caleta. A small beach bar offers drinks and refreshments. Especially shade lovers will hold this beach close to their heart, thanks to the many pine trees that fortunately remain here.
The smallest of the three beaches, "Es Mago" is located directly in front of a beach restaurant and has an interesting history: it is, in fact, Mallorca's first nudist beach. Those who would rather not drop their swim shorts, are better off at the much larger Platja del Rei. For snorkelers, we recommend another beach known only to locals or explorers which is located in Sol de Mallorca. Abruptly between the top properties on the seafront, stairs lead down to the sandstone coast. Ladders facilitate entry into the wonderfully clear water. Snorkelers who come here definitely get their money's worth, visibility of 20-30 metres is not uncommon.
The resort of Sol de Mallorca leaves nothing to be desired in terms of quality of life. Even athletes can enjoy the area. The marinas of Port Adriano and Puerto Portals are less than five kilometres away. The golf courses of Santa Ponsa I and II are located in the immediate vicinity. And there is even a tennis club in the village itself.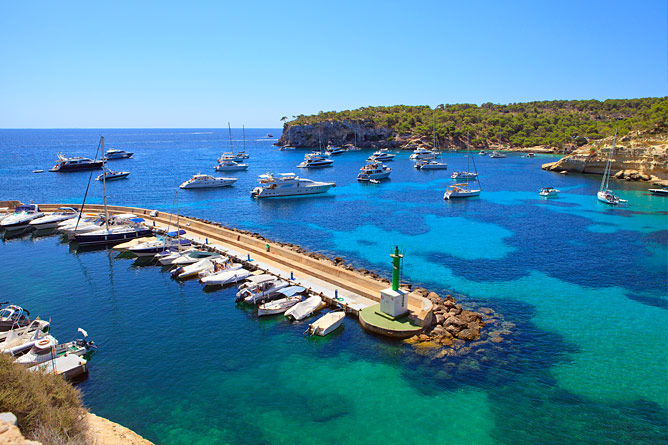 Marina in Sol de Mallorca