316 houses in Mallorca for sale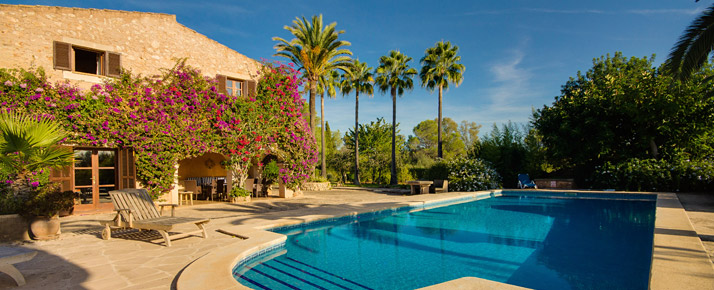 Dreamlike houses for sale in Mallorca in all price ranges
Let's face it, who does not dream of it? Your own house in Mallorca! The sun shines here 300 days of the year and life is carefree. The island is enchantingly beautiful and the landscape with its mountains, rolling hills, eternally green countryside, and the beautiful coastline with its small bays and undisturbed beaches is extremely varied. Also impressive is the Majorcan hospitality, and the excellent infrastructure with its culture, art, sport, gastronomy and ideal shopping possibilities- something for every taste. And all this is accessible in only two to maximum three hours flying time from and to most of Europe. A paradise, where your own home awaits you!
A house in Mallorca for every need
Those who move permanently to the Balearic Islands are well advised to invest in their own home, be they business people, retirees or professional people with families (for whom there are numerous international schools and attractive job opportunities).Whether primary residence or dual residence, as a holiday rental or purely as an investment, the choice of attractive homes in Mallorca is huge: on the coast overlooking the sea, inland with panoramic views, in the mountains of the Tramuntana or the coastal hills, in Palma de Mallorca, in the luxurious hotspots of the south west, in vacation resorts, or in one of Mallorca's picturesque villages.
House with or without land
Porta Mallorquina offers houses in Mallorca in all sizes from single to multi-family houses, and in every region - south, north, east, west and the center of the island - from brand new, to rustic and carefully restored. Most houses have their own pool, a garage and/or car parking space , have various large and small terraces, some have a roof terrace or a courtyard, and often their own private garden or land.
Buying a house in Mallorca with sea views
In principle there are nice houses with pool in good locations priced from € 500,000 upwards. The larger the property, the more desirable its location and the more popular the area - here the southwest with Puerto Andratx, Santa Ponsa and Puerto Portals lead the popularity rankings - the more the value of the house.
Holiday home in Mallorca as a worthwhile investment
For those who do not want to use their own four walls only for themselves renting a house or a country house for holiday rental can generate a worthwhile income. This is a trend that is growing in popularity as it can generate handsome returns. Before purchasing a house with the intention of renting, however, it is advisable to take professional advice. Eg: Only detached, semi-detached, and town houses can be used for tourist rentals, but not flats and apartments.
Mallorca is, after the Costa del Sol in Andalucia, the most popular and also the most expensive region for vacation property in Spain. In fact, owning a house in Mallorca is simply well worthwhile as the attractiveness of the Spanish market for potential buyers continues unabated despite, perhaps because of, the crisis.
Always competently advised by our real estate agents
When buying a property always follow the so-called ``Golden Rules´´ of real estate purchase. We know those rules and will assume responsibility for following them for you without exception when you decide to buy your property. These include, amongst other items, the correct notarial contract of sale with a note of registration from the land registry, the confirmation of a current land registration with extract and cadastral reference, the verification of existing liabilities or impositions , the possible existence of tenancy contracts or tax liabilities, if a plot qualifies as building land, etc. etc.
We advise you, when expanding or remodelling a property, about the formalities of electricity, water, telephone, etc., and any other issues you should know. And if you decide to licence your home for tourist rental, you have come to the right place.
The experience and local knowledge of our competent and professional staff and the leading position of Porta Mallorquina after ten years serving the Mallorcan property market, that all speaks for itself. Take your time, take a look at rest of our properties at your leisure and let us advise you in detail - we will find the right one for you.