8 properties for sale in Cala Vinyas
Real estate agent in Cala Vinyas, Mallorca
You are looking for a property for sale in Cala Vinyas, or have a question regarding our real estate offers in Mallorca? You were not able to find the ideal villa in Cala Vinyas? Then please call us on +34 971 698 242, or send us an email to info@portamallorquina.com. Our Porta Mallorquina real estate agents in Cala Vinyas will be pleased to asist and will help you find your dream property.
About Cala Vinyas and surrounding area: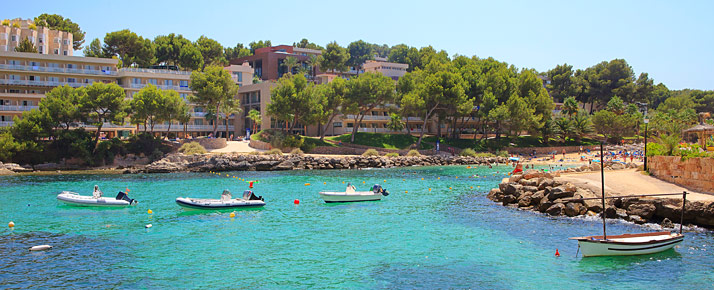 The bay of Cala Vinyas
Cala Vinyas is a tranquil resort in the popular south west of Mallorca. Situated in a wide valley, the town is dominated by apartment complexes and hotels. Travelers will appreciate the wide sandy beach that slopes gently into the sea and is graced with beautiful palm trees.
Blue flag blows over the beach of Cala Vinyas
The horseshoe-shaped bay also offers protection against high waves. Families with children feel at ease here. Since 2014 a blue flag blows over the beach of Cala Vinyas. The accolade of a European Foundation Award signales an excellent water quality coupled with services such as toilets, lifeguards, and waste disposal.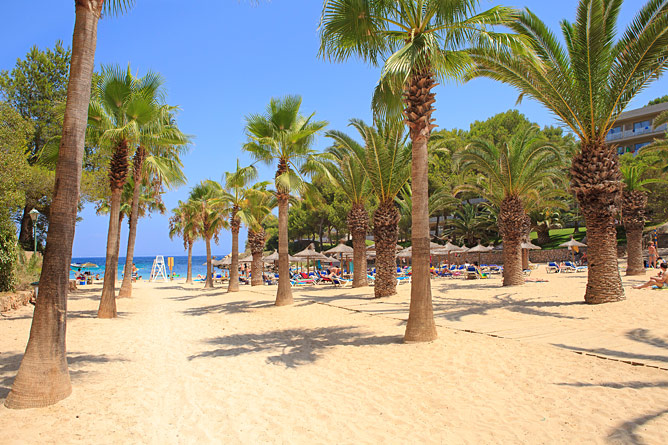 Cala Cap Falcó
Sandy beach Cala Cap Falcó
An alternative bathing option is on offer at the Cala Cap Falco. It is still an insider tip due to its geographical isolation between Cala Vinyas and Sol de Mallorca. It can be reached via a gravel road on the western edge. The small but fine sandy beach shelves gently into the sea and integrates harmoniously into the still undeveloped hills. A small beach is operated by Stephan Ohneck, who also runs the "Beach Alm" in Puerto Portals. Similar ambition is provided for the menu here. Gourmet options such as the sandwich with salmon fillet and avocado or the "fondant de chocolat" with vanilla ice cream come recommended.
Sport in Cala Vinyas
Those who have had enough of the sweet beach life and want to lose a few pounds, enjoy excellent sporting facilities at Cala Vinyas. The marinas of Port Adriano and Puerto Portals are less than five kilometres away. The golf courses of Santa Ponsa I and II are located in the immediate vicinity. And there are even tennis courts in the village itself.
Cala Vinyas is not only popular with travelers. Because in addition to the hotels and apartment complexes in the valley, some luxury properties can be found upon the slopes. The houses often offer fantastic sea views, even if they are not located on the seafront. Those who live here enjoy the tranquility of Cala Vinas but appreciate the proximity to the lively capital of the island. Palma can be reached via the motorway in just 15 minutes.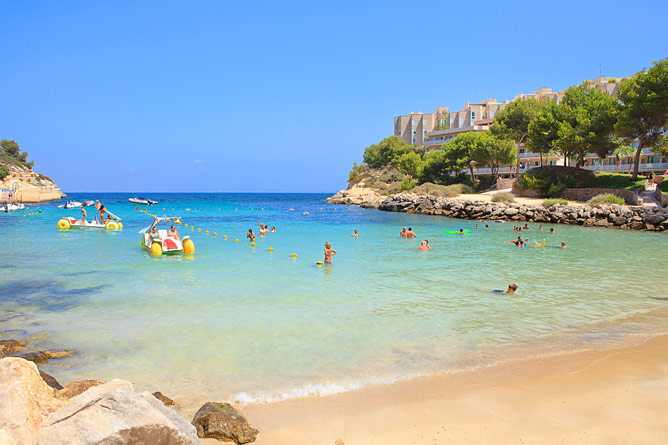 Cala Vinyes
Porta Mallorquina Real Estate in Santa Ponsa
"During the sales process, I was very competently advised and received many valuable tips. A craftsman was recommended to me by Mr. Linder and the company that has done all the conversion work were competent, trustworthy and timely. If in the future I decide to purchase or sell a property in Mallorca, I'll be working again with Porta Mallorquina."
Rating by Nadia Amey, Villars-sûr-Glane, Switzerland to buying an apartment in Cala Vinyas. 5 / 5 Stars.