Property Management in Mallorca – we take care of your property!
Are you looking for a reliable service partner to take care of your house or apartment in Mallorca? From a gardener to pool maintenance, and a stocked-up refrigerator when you arrive on the island? Then our Property Service Mallorca is what you need!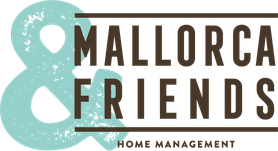 'Mallorca & Friends', the exclusive partner of Porta Mallorquina Real Estate, offers you an individual management concept for your holiday property in Mallorca.
With its many years experience and a highly professional network the Mallorca & Friends team will  support you during the management and administration of your property. We are available 7 days a week..
Maximum satisfaction and a clear understanding of your requirements are the declared aims. Our partner looks after your finca or apartment and ensures reliability for security, maintenance and comfort. The cooperation is characterised by a heartfelt relationship and practised hospitality.
From the object management, including maintenance or a professional concierge service, this new service offers you all-round support. The team accompanies you reliably and discreetly during all the necessary tasks and work and ensures that you feel relaxed and comfortable at all times in your Mallorca property.
Range of property management services
House & apartment
Regular inspections, security checks, airing, rectification regarding damp and damage, emptying the postbox, watering plants
Switching on air conditioning or heating prior to arrival
Shopping
Receiving guests and key-handover
Coordination of craftsmen and personal checks, from minor repairs to larger building measures
Feeding pets
Garden and exterior areas
Garden maintenance
Planting
Garden design and repairs
Installation and maintenance of irrigation systems
Lawn maintenance, professional care of palm trees, hedges and bushes
Cleaning of outside areas and terraces
Pool and pool technology
Qualified cleaning and maintenance
Regular checks of water quality and pool status
All pool systems (chlorine, salt electro-analysis)
Cleaning & laundry service
Cleaning service (regularly or when required)
Laundry service (wash, clean and press, renting service for bedclothes etc, all possible)
Home technology & craftsmen
We take care of organising craftsmen and specialists, including coordination and monitoring of all agreements, dates and work execution
Island-wide network of reliable partners  including architects, electricians, glaziers, heating and climate technicians, home automation, technicians and plumbers, interior designers, painters/decorators, carpenters, TV and sat specialists
Additional services
Secretarial service and organisation
Translations
Dealing with local authorities and administration formalities
Relocation service
Travel planning and organisation
Car re-registration
Special conditions from Porta Mallorquina
As a Porta Mallorquina client you enjoy special conditions from our cooperation partners – send an email to info@portamallorquina.com or, when contacting Mallorca & Friends enter the code "PMAPROP2019" and you will receive 15% discount for the first 2 months when concluding a property-management contract.