4 properties for sale in Bahia Grande
Real estate agent in Bahia Grande, Mallorca
You are looking for a property for sale in Bahia Grande, or have a question regarding our real estate offers in Mallorca? You were not able to find the ideal plot in Bahia Grande? Then please call us on +34 971 698 242, or send us an email to info@portamallorquina.com. Our Porta Mallorquina real estate agents in Bahia Grande will be pleased to asist and will help you find your dream property.
About Bahia Grande and surrounding area: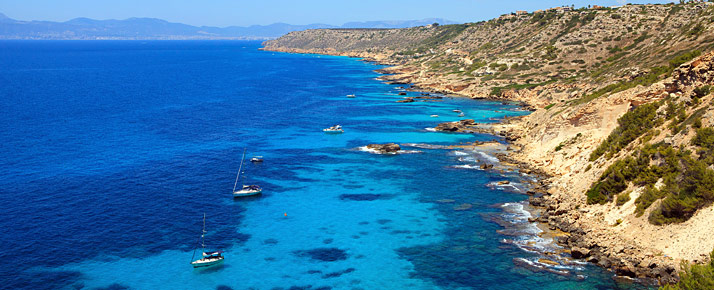 Bahia Grande
The western cliffs of Mallorca are located just twenty minutes from the island's capital, and yet are largely undiscovered. Most drivers pass towns such as Badia Gran, Tolleric or Puig de Ros on their way to Cala Pi and Cap Blanc. The 70s built settlements, however, offer a lot of quality of life.
Hidden Benefits
Anyone who has purchased one of the top properties on the seafront, enjoys a priceless view, as the coast falling from here is about 150 metres steep. Via two wide asphalt roads, the sea is still easy to reach. A road leads down the branch of Puig de Ros to the Beach Club Mhares where it is especially nice to relax with a sundowner or two. Also in Badia Gran, a road leads unexpectedly down to the sea. Especially swimmers and snorkelers know and appreciate the clear water and the intact underwater world of the so-called "delta" bay.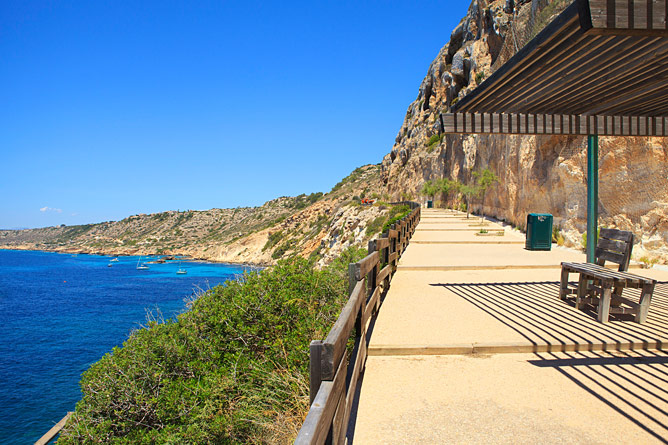 Paseo in Cala Blava
A Touch of Sunday - Every Day
The sea in front of the door, and the island's capital, close enough to touch - the location of Badia Gran leaves nothing to be desired. The settlement was founded in the 70s and has also grown harmoniously. Vacant terraced rows that were raised at the time of the housing boom, you will look for in vain. Usually encountered in Badia Gran now are large and well maintained plots of land, on which you find stately houses and magnificent mansions. The residents always appreciate the Sunday peace that wafts through the wide streets. Those who prefer to relax can do so carefree in Badia Gran. Socialites find themselves in the few bars and restaurants of the town, for example in the paella restaurant "La Aldea Blanca" in the centre.
Good Leisure Facilities
Another meeting place for locals is the Sport Club of Badia Gran. Here, guests not only have a large swimming pool with an outdoor pool-atmosphere available, but also tennis, padel and beach volleyball courts.
Golfers have the facility of Maiori, virtually on their doorstep. Designed by Dieter Carbus, the 18-hole course was opened in 2006 and has a par of 72. The greens are surrounded by many pine trees which provide pleasant shade in summer.