13 properties for sale in San Lorenzo
Real estate agent in San Lorenzo, Mallorca
You are looking for a property for sale in San Lorenzo, or have a question regarding our real estate offers in Mallorca? You were not able to find the ideal plot in San Lorenzo? Then please call us on +34 971 698 242, or send us an email to info@portamallorquina.com. Our Porta Mallorquina real estate agents in San Lorenzo will be pleased to asist and will help you find your dream property.
About San Lorenzo and surrounding area:
Sant Llorenç de Cardassar is probably the village with the most melodious name in Majorca. Those visiting the village with great expectations will be most likely be disappointed. About 3500 people live in the quiet village that is not bursting with sights. Only the parish church built in 1654 with its imposing facade is worth a visit; it is home to, among others a Romanesque Madonna figure from the 13th century. While Sant Llorenç de Cardassar is not a tourist attraction (and will probably not be), visitors can experience an authentic Majorcan atmosphere here.
Countless swallows circle around the mostly single-storey houses. But, apart from aircraft above, hardly any traffic is found in the narrow streets. Around the central village square, Placa Nova, the locals sit in the cafes and catch up on the latest village gossip.
The summer holidays have started. The priest died recently. And Antonio has fallen off his bike. This we learn, while eating the favourable Pa amb oli in the bar Nou. And from Antonio himself, who was born in Sant Llorenç. The life story of an 86-year-old at the same time reflects the fate of the community, which has long been dominated by agriculture.
Antonio is one of many farm workers on one of the great fincas, with mainly almond and fig orchards. In the 60's, tourism began and created new sources of income. Antonio moved to the construction industry which came into its own due to popular demand. Sa Coma and a part of Cala Millor, the tourist stronghold in the east of the island, belong to the municipality of Sant Llorenç de Cardassar. "There was at that time 20 construction companies to work for," says Antonio. "Of these, only one survived".
As for its construction, Sant Llorenç de Cardassar can look back on a long tradition. The picturesque hillside is studded with more than 70 archaeological sites of prehistoric Talaiot culture. Romans and Arabs also populated Sant Llorenç. The sonorous name of "de Cardassar" (in English: with thistles) came about during the Reconquista. According to legend, a Madonna figure was found in the thistle bushes near Sant Llorenç in 1229, shortly after the re-conquest by King Jaume I. The people believed that they had kept her hidden there during the Moorish domination.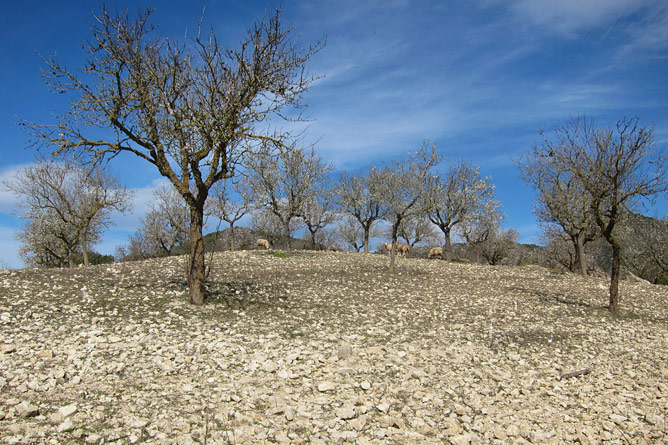 Hills in San Lorenzo
Sant Llorenç de Cardassar's melodic name is well known to any real estate broker. But the reason is not due to the place itself, where many apartments and houses stand empty, but due to the scenic surroundings. Here you can find not only popular hotels Finca Son Trobat and Son Penya, but also countless attractive holiday properties. The property owner here has not only the proximity to the coast and to the city of Manacor, but also a Michelin star-winning restaurant in the neighbourhood.
Restaurant recommendations from real estate agents
Bens d'Avall: The Michelin-starred chef Tomeu Caldentey provides for Mediterranean delights a la carte in Sa Coma. Since 2008, he also offers affordable lunch and dinner menus in his Bistro "Taronja Negre". Unique atmosphere in a historic mill building.
Es Pati: Mediterranean haute cuisine in Son Carrio. Friendly and informal service, atmospheric ambience.