331 apartments in Mallorca for sale
Mallorca apartment filter: Penthouses for sale Mallorca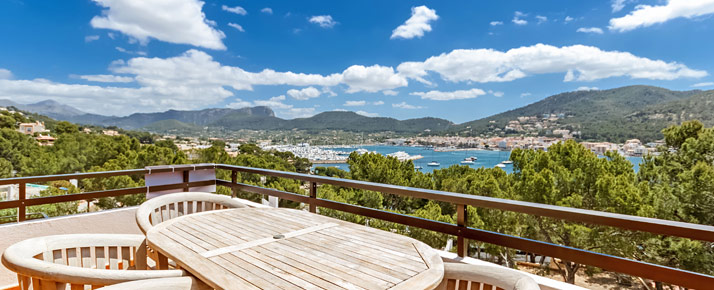 In Mallorca you will find apartments for every taste
You would like a second home in Mallorca, where you can relax completely and have time for yourself? Then an apartment is just right for you. The selection of objects ready to occupy is huge, ranging from the distinctive small studio, where the terrace is sometimes larger than the actual living space, to the spectacular, several hundred square metre penthouse in the category of luxury real estate.
Apartments in Mallorca are popular and offer many advantages
From one-room apartments to luxurious lofts in the old town of Palma all variations can be found - small, medium and large. In Spain, however, the number of roomscounted refers only to the bedrooms and not the living rooms. What is called a one-room apartment here actually consists of 2 rooms, ie. living room and bedroom.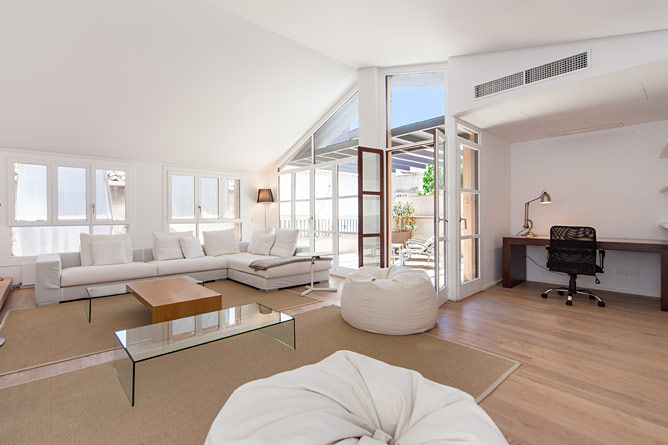 Luxury penthouse apartment in Palma de Mallorca
While a house and garden in Mallorca needs constant attention and investment of time and money, an apartment is uncomplicated, practical, comfortable and sometimes very sociable. After all, you have neighbors and are not alone in the building. When you leave, you lock the door behind you until you return. Added to that, it is much easier to look after a terrace or a balcony – both of which are ``compulsory´´ on this sunny island - than a garden or grounds.
Apartments in all locations and price ranges
Whether in the city, in a village or on the sea - an apartment in one of Mallorca´s more desirable locations is a good investment as the value of real estate on the island is constantly increasing.
Carefully and excellently renovated apartments can be found in the old town of Palma in locations like, for example, the Cathedral La Seu, the Paseo Marítimo, overlooking the marina or in newly-fashionable neighborhoods such as Santa Catalina. Directly on the seafront there are luxury condominiums to be found in the highly sought after, former fishing villages Portixol and Es Molinar.
The choice ranges from apartments or penthouses in the city palaces, fantastic homes on the 1st.sea line, gorgeous Áticos (Penthouses), newly-built apartments, small and cosy, or large, light, centrally located pisos (apartments) with high ceilings and spacious rooms.
Even those who want to live in a Mallorcan village are not obliged to buy a whole house. Just as in the coastal and vacation resorts the choice of apartments in the villages is very large. It should, however, be remembered that it can be very quiet in the winter months.
Pool and heating in the apartment
Those who want to live the whole year in an apartment in Mallorca are possibly well-advised to live in, or near to Palma, for example in one of its south-western suburbs with a healthy mix of locals and foreign residents. Many houses and most apartment complexes have a community pool and, fortunately for everyone staying through the winter, in most cases heating often in the form of warm/cold air conditioning.
Expert advice from a real estate agency
When purchasing an apartment in Mallorca the top priority should be the thorough examination of the contractual and legal situation and documentation. The checklist ranges from building permits, land registry, payment of property taxes and the habitability certificate. This latter document must is necessary to have water, sewage, electricity, gas and telephone connected, and must be renewed every 10 years. As one of the most experienced real estate agents in Mallorca we will relieve you of these formalities, accompany and advise you, and take care of your interests.
Renting out a holiday apartment is not legal
Buying an apartment in Mallorca with the intention of renting it out as a holiday home is not advisable. This is, officially, no longer allowed as there are no laws in existence providing for it. This means that the touristic renting of apartments located within housing complexes is forbidden in Mallorca. Single-family detached and semi-detached houses, however, which comply with the Balearic tourist laws may be rented out as holiday homes if all conditions are met . A glance in the Internet shows how difficult it is to enforce this law.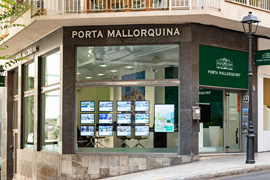 Porta Mallorquina Real Estate in Palma de Mallorca
Porta Mallorquina Real Estate
Calle Conquistador 8
07001 Palma, Mallorca
Telefon: +34 871 716 290
E-Mail: info@portamallorquina.com