Leading provider of Mallorca real estate
With eight real estate offices, over 60 Employees and Real Estate Agents and over 2,000 properties in Mallora, Porta Mallorquina is one of the biggest estate agencies on the island. The central marketing platform is our real estate website porta-mallorquina.com which, thanks to its top ranking on Google, is one of the most widely-visited real estate websites in Mallorca.
Real Estate Franchise in Spain
Become part of our over 15-year success story and take over one of our well-established sales regions as our independent franchise partner.
Your advantages:
Taking over an already-established sales territory with an active property portfolio, extensive customer database and ongoing turnover
The very high awareness of the Porta Mallorquina brand
Presentation of your portfolio on our multilingual website, which is one of the most-visited real estate websites in Mallorca with up to 100,000 visits per month
Unique service package from the head office:

Continuous feed of enquiries through the central customer-management team
Multilingual preparation and professional online-presentation of your exposés
Assistance with administrative tasks, central marketing and regional sales promotions

Web-based real estate software enabling working independently of time and location
Ongoing coaching and training with a comprehensive range of courses
Franchise areas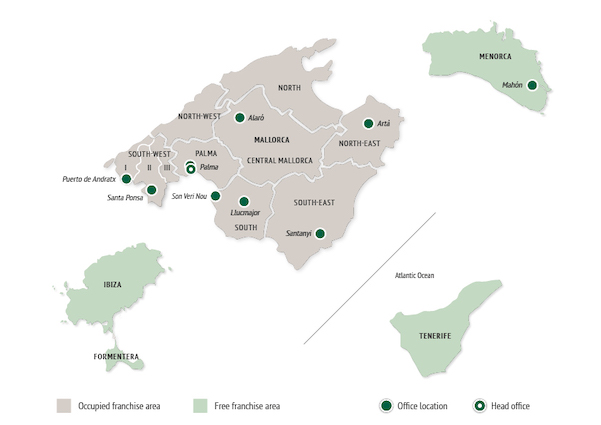 Would you like to become a franchise partner?
Then you should meet the following requirements:
Excellent local knowledge and an established local network
A passion for high quality real estate
Sales and/or distribution experience
Sufficient private capital
Good knowledge of the local language and English
If you also have a confident, well-groomed appearance, are well-mannered, and are a likeable business personality then we should get to know each other.
Find out more about the vacant franchise licence areas Ibiza, Menorca and Tenerife or contact your advisor:

Karina Ponce de Leon
+49 892 424 22 05
E-Mail: partner@portamallorquina.com
Franchise in Spain - Homes & Holiday AG
Porta Mallorquina and Porta Mondial are part the of Homes & Holiday AG. As a real estate franchise system, we offer entrepreneurs the opportunity to become self-employed in the most beautiful holiday areas in Spain. More information can be found at homes-holiday.com.