Leading provider of Mallorca real estate
With eight estate agencies, more than 60 Employees and Real Estate Agents and over 2,000 properties across the island, Porta Mallorquina is one of the biggest estate agencies in Mallorca. Our central marketing platform is the website www.porta-mallorquina.com which, thanks to its top Google rankings, is one of the most popular Mallorca real estate websites.

Franchise in Mallorca
This is a proven sales concept that allows individuals to set up their own real estate business in Mallorca.
How you benefit:
You take over an established sales region in Mallorca with an active property portfolio, an extensive customer database, and ongoing turnover of properties
Stable demand, with suitable leads processed in advance by central client management
High awareness level of the Porta Mallorquina brand
Reduced back office workload for you
Centralized marketing and regional sales promotion campaigns
Your Estate agency in Porta Mondial's award-winning design
Franchise areas of Porta Mallorquina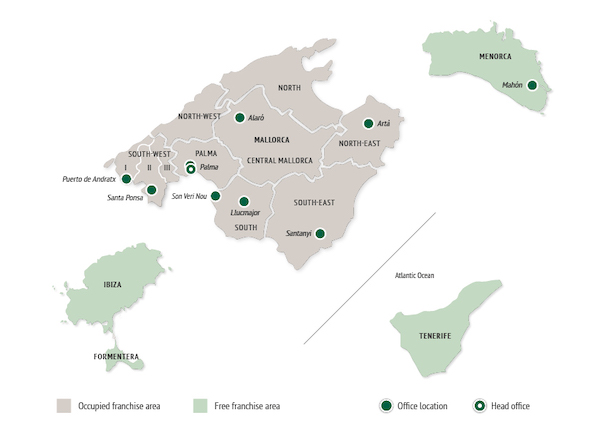 Become a franchise partner
Are you interested in a franchise partnership in Mallorca or Spain? Or would you like to take over an entire region as a Master franchise partner? In either case, we look forward to meeting you.

Please contact
Karina Ponce de Leon
+49 892 424 22 05
E-Mail: partner@portamallorquina.com
Franchise in Spain - Homes & Holiday Group
Porta Mallorquina and Porta Mondial are part the of Homes & Holiday AG. As a real estate franchise system, we offer entrepreneurs the opportunity to become self-employed in the most beautiful holiday areas in Spain. More information can be found at www.homes-holiday.com/holiday-real-estate-licence/.