4 properties for sale in Bendinat
Real estate agent in Bendinat, Mallorca
You are looking for a property for sale in Bendinat, or have a question regarding our real estate offers in Mallorca? You were not able to find the ideal house in Bendinat? Then please call us on +34 971 698 242, or send us an email to info@portamallorquina.com. Our Porta Mallorquina real estate agents in Bendinat will be pleased to asist and will help you find your dream property.
About Bendinat and surrounding area: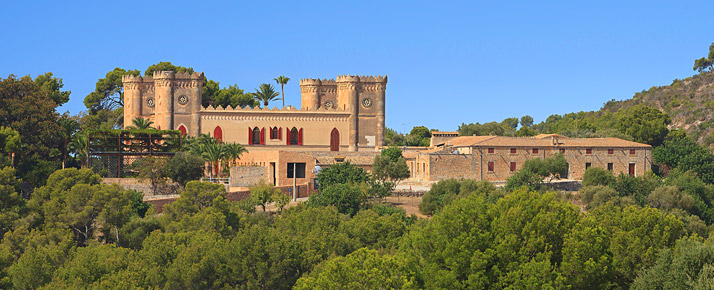 Fortress "Castillo de Bendinat"
After the expedition of the Christian army to Mallorca with its 12,000 soldiers on 155 ships that defeated the Islamic Moors in 1229, one place has survived until today, the resort of Bendinat.
Bendinats history
After the Spanish knights defeated the Muslim Arabs in the bloody battle at the "Col de Sa Batalla" ("the hill of the battle" - near Magaluf), the army set up camp to rest about 15 kilometres from Palma. The victorious King was hungry after the battle, and was served the soldier's meal of black bread with garlic. After eating, hunger is known to be the best cook, King James I said "Havem ben dinat" (we ate well), thus giving the place its name, Bendinat.
Castillo de Bendinat
James I later built the mighty fortress Castillo de Bendinat. The fort was then enlarged by the "Marqués de la Romana", developed by architect Pedro Salça later in the18th century into an imposing castle. An imposing villa in Majorca, for which today certainly no more building permits would not be granted. The castle on a rectangular plan with four massive corner towers, is built entirely of red sandstone and offers a picturesque view of the old town of Palma and the bay.
That aside, there are not many traces of history left in the sophisticated suburb of Palma. The truly spectacular views and proximity to Palma attracted developers from all over the world who have created their sumptuous villas here.
Golf course in Bendinat
Bendinat has a very well maintained golf course that is particularly favoured by businessmen from nearby Palma.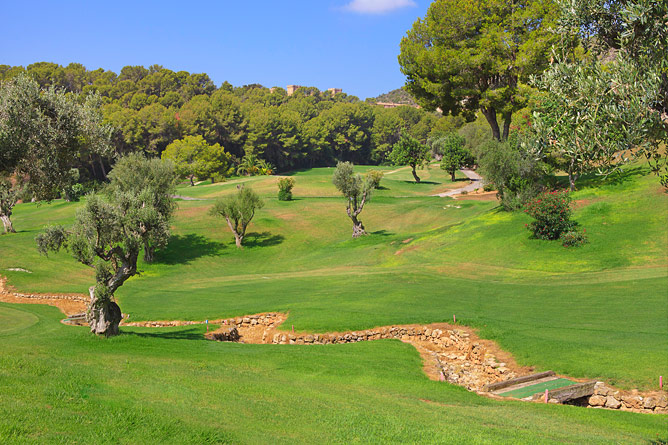 Golf course in Bendinat
The decorative clubhouse is eagerly frequented by non-golfers for its excellent cuisine. Many tourists have acquired villas directly next to the Bendinat golf course. The golf course, which has relatively steep climbs up the mountainside of the "Sierra Burguesa" has a special singularity. The golfers play on the very busy main road between Portals Nous and Palma de Majorca. In the famous "Hotel Bendinat" you can enjoy good food and enjoy the beautiful park of Mediterranean vegetation.