Property consultants – full service around your real estate
Your property consultants in Mallorca
With our expertise and intricate knowledge of Mallorca, we will assist you in obtaining the real estate of your dreams: from the search and selection, to the handing-over of the keys. We assist you with any necessary administrative paperwork and help you get over the hurdles of Spanish and Mallorcan bureaucracy with ease. If you wish, we can recommend renowned architects as well as reliable local craftspeople and gardeners.

Furthermore, a renowned law firm is ready to assist you in all queries relating to Spanish real estate and tax law.

Finally, if you wish, we can organise your trip, book your flight, your hotel and car hire. We personally tend to your transportation needs.

Long Term Rental
Long Term Rental
Porta Mallorquina,
Licencia de Alquileres S.L.U.
customer service
Telephone: +34 971 698 242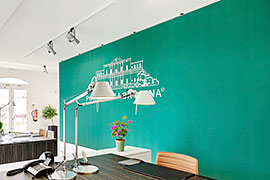 Beatus Zimmermann
Franchisee Long Term Rental


Languages: German, English, Spanish
beatus.zimmermann@portamallorquina.com
Customer Testimonials about the long term rental from Porta Mallorquina
"The truth is that you pleasantly surprised us - we listed the house with you and the first client you brought us rented it. Beatus you are a true professional!
Hopefully these tenants will stay for a long time, but when they leave we will once again trust you with listing our house.

We sincerely thank you" See all reviews »
Maria Antonia Ramis from adress withheld , Spain.
5 ★★★★★ Rating to the long term rental of an apartment in Marratxi.

---
"After our conversation with Rebecca we had vitually nothing more to do with the rental – she did everything from the viewing up to the contact preparation! Now we have a long-term tenant who suits us completely, and would go the same route in the future.

Carmen & Gerd Deutschmann" See all reviews »
Carmen Deutschmann from Gröbenzell, Germany.
5 ★★★★★ Rating to long term rental of an apartment in Calvia.

---
"If we were awarding school grades Porta Mallorqina, represented by Ms Rebecca Mohr was an excellent +. From the very beginning I had the feeling that I was in excellent hands, and Ms. Mohr was extremely friendly, competent and helpful from the initial enquiry to the viewing and handover of the keys.

You would think that was it, but on..." See all reviews »
Jörg Laudwein from Castrop-Rauxel, Germany.
5 ★★★★★ Rating to long term rental of an apartment in Calvia.

---
---
"Dear Britta,
I would like to thank you for finding a tenant for us - we are very happy that we could settle the issue before leaving the island, and apart from that I believe that we get along together personally!
With many thanks!" See all reviews »
Vicky Hart from Sineu, Spain.
5 ★★★★★ Rating to long term rental of an apartment in Palma.

---
"While searching for an apartment in MallorcaI I met Britta Niemann from Porta Mallorquina. After my interest in an object another property came up, which was not a problem for Ms. Niemann and she very quickly arranged a viewing. I liked the object very much and with her help the initial bureaucratic problems were dealt with. During this time..." See all reviews »
Johann Sihorsch from Vettweiß, Germany.
5 ★★★★★ Rating to long term rental of a penthouses in Palma.

---
"Dear Mrs de Lluc, now today after a week I would like to thank you again for your very good advice. As we had already discussed by phone the accommodation fully corresponds to our expectations. I also want to thank you for the quick and easy management of your rental agreement. You have answered us with your competence and kindness and been..." See all reviews »
Monika and Roland Kollhoff from Berlin, Germany.
5 ★★★★★ Rating to long term rental of a property in Manacor.

---
How to get to there