Prices for holiday properties on Mallorca have risen across the board for yet another year – in January 2023 the average price per square metre was around 5,700 euros which corresponds to an increase of 10.9 percent compared to the previous year. These are the results of an independent market study conducted by the Steinbeis-Transfer-Institute (STI) Centre for Real Estate Studies (CRES). 
Luxury properties in Mallorca increase by up to 30 percent
Throughout the island average prices rise to around 5,700 euros per square metre
Over 10,000 euros per square metre paid for the first time in the luxury segment
Rising prices also expected in the coming years
More restrictive legislation slows down new construction and could force prices higher
End of price increases in Mallorca properties not in sight
For the ninth time the properties offered by the largest real estate agents in Mallorca were recorded, manually validated and statistically evaluated. Compared to last year's study prices have increased more rapidly after the previous rise of 4.5 percent, and the experts do not foresee an end to this trend on the Balearic islands. Compared to last year and using the same estate agent websites, the amount of properties offered for sale has decreased by approx. 13 percent. A total in excess of 5,500 residential properties were evaluated during the study. 
Study-leader Prof. Marco Wölfle from the Centre for Real Estate Studies (CRES) remarks:
"The market for holiday properties on Mallorca is extremely robust, albeit with prices very much dependent on sea views and pool. This explains, amongst other things, the relatively favourable price level in the centre of the island where sea views are not to be expected. The island-wide price premium for a property with a top-quality sea-view is around 60 percent, and properties with a pool are on average 30 per cent more expensive."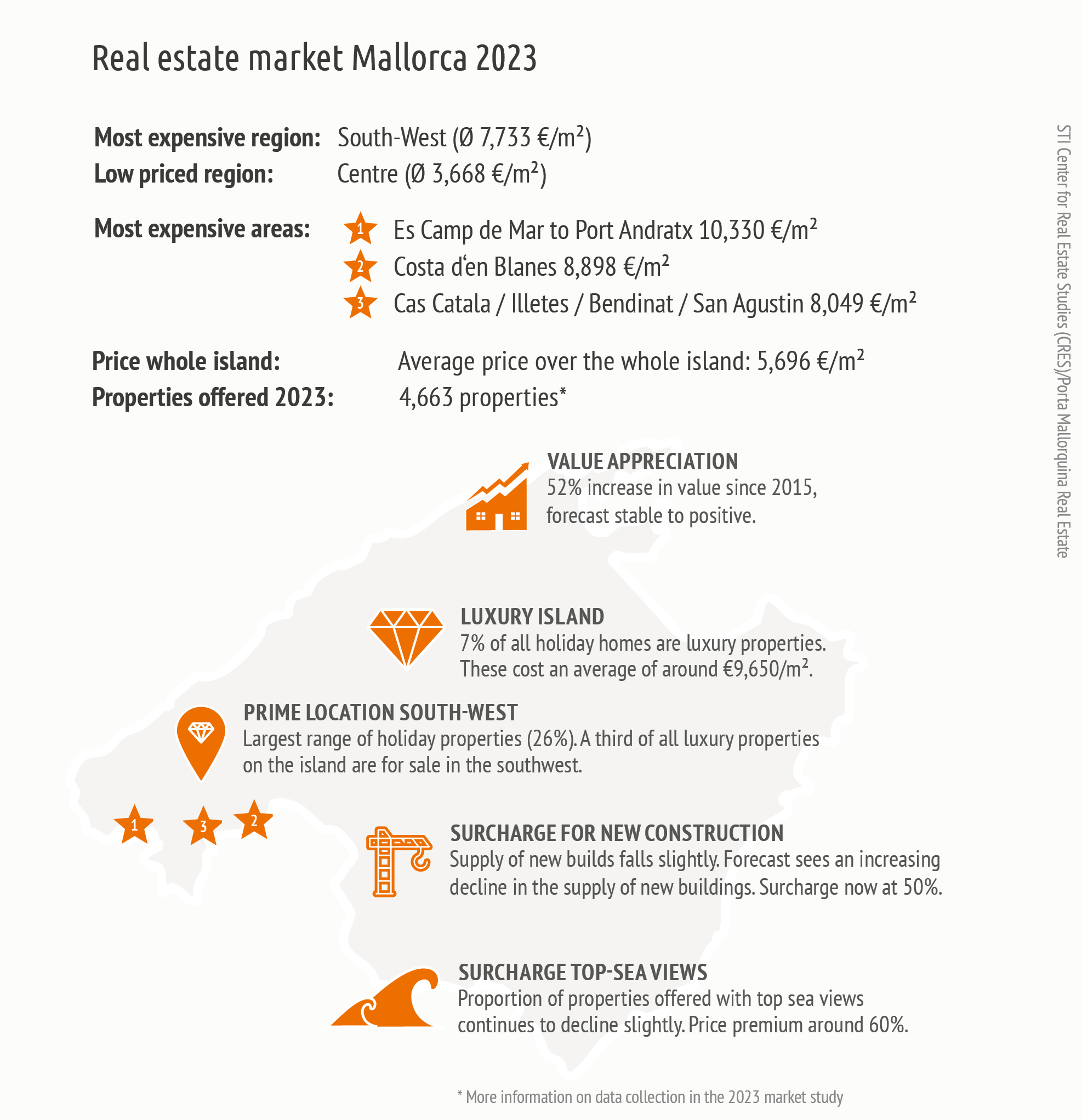 In the luxury segment in the south-west over 10,000 euros per square metre is being paid for the first time
Price leaders on the Balearic island are properties in the upscale and luxury segments. Everywhere on the island an average of 9,650 euros per square metre will need to be paid for a luxury property from the beginning of 2023. This is 16 percent more than a year earlier. In the desirable south-west area a record average price of 10,000 euros per square metre was beaten for the first time. Now the average is 12,860 euros, an increase of 30 per cent compared to the previous year's figure. But it could still get significantly more expensive – prices could go as high as 30,000 euros although in that case, in addition to unobstructed sea views, the most modern features are demanded and offered. New buildings generally now provide underground parking facilities, a lift, an infinity pool and underfloor heating.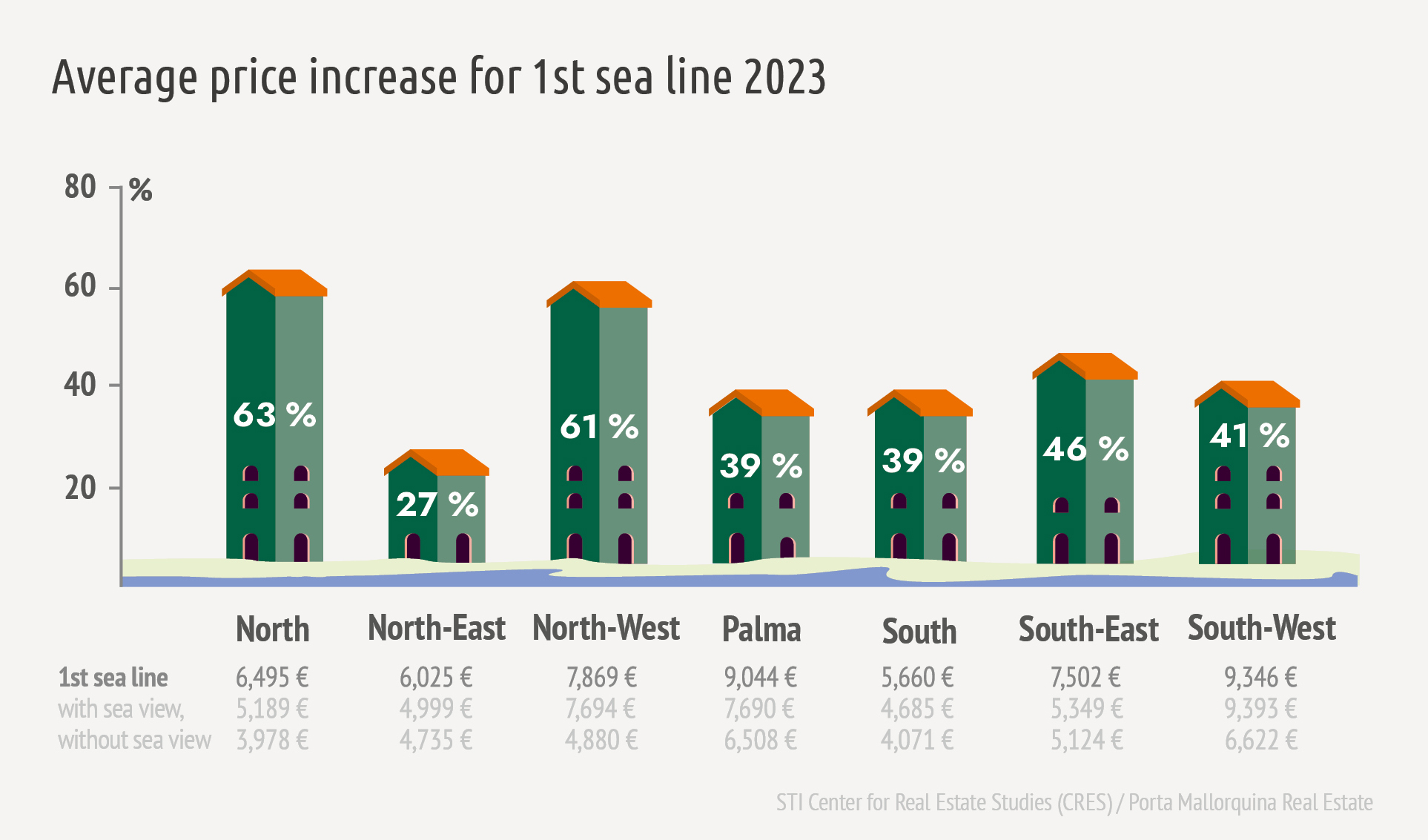 Mallorca offers a diverse range of properties with prices starting at 2,783 euros per square metre
Porta Mallorquina Managing Director Timo Weibel:
"Despite the trend towards luxury objects, Mallorca still offers a very diverse range of properties. Due to the size of the island there is a complete range of property categories to be found, and the most diverse requirements can be met by suitable properties which offer stable values, either to fulfil a lifelong dream of a home in Mallorca or for use as investment properties."
In the centre of the island, prices start at around 2,800 euros per square metre, but even in the coastal regions – with the exception of Palma and the south-west – properties can still be found for up to 5,000 euros per square metre.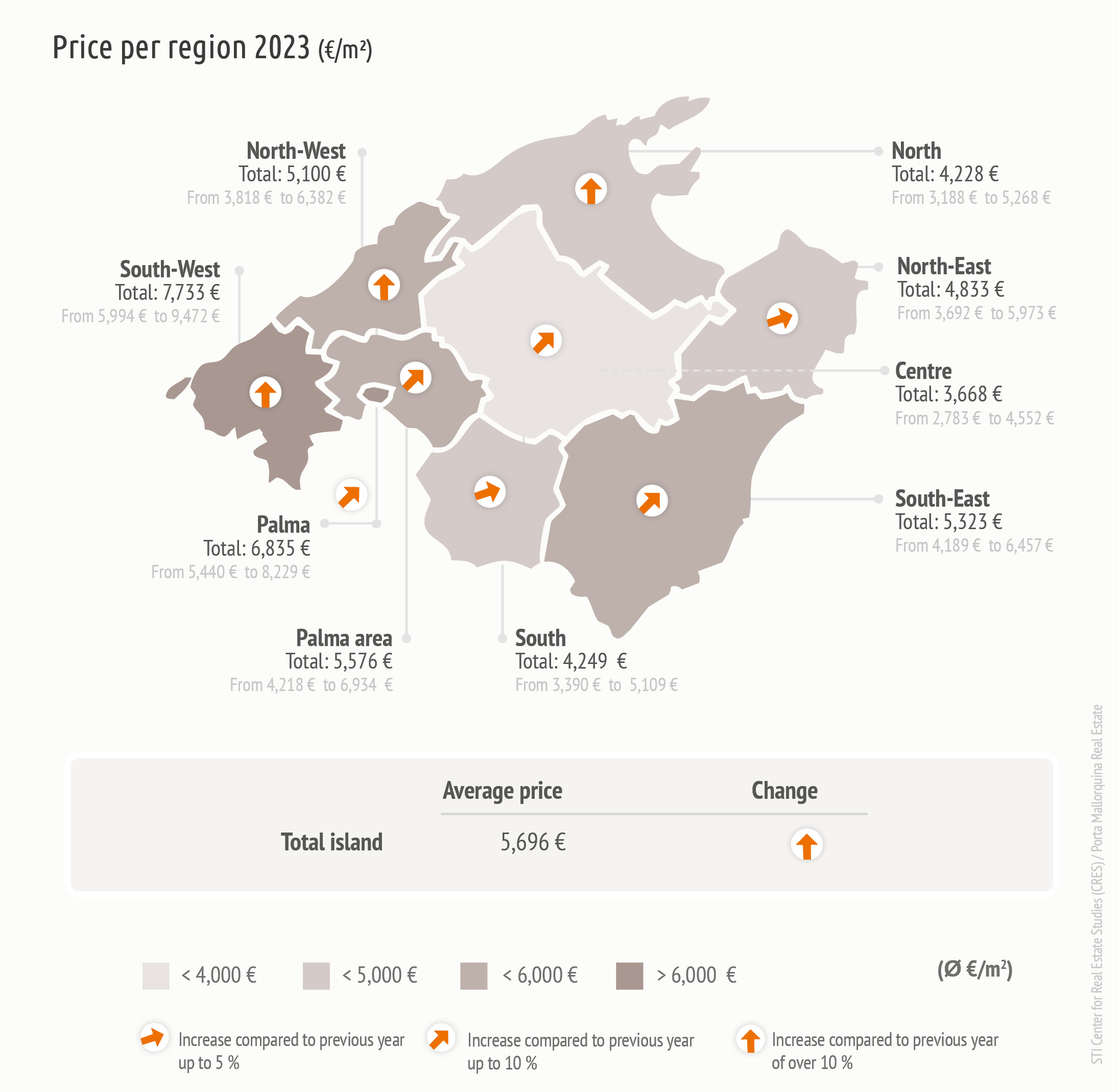 Mallorca real estate remains stable in value: prices have been rising significantly faster than inflation since 2015
CRES has been studying property prices on Mallorca since 2015. Over the past five to ten years, every property owner was able to look forward to a significant increase in the value of his property, and since 2015 prices have risen by around 52 percent island-wide. Palma city has benefited the most with an increase of 66 percent, in front of the south-west with just over 71 percent. In the same period, inflation in the eurozone was around 22.7 per cent.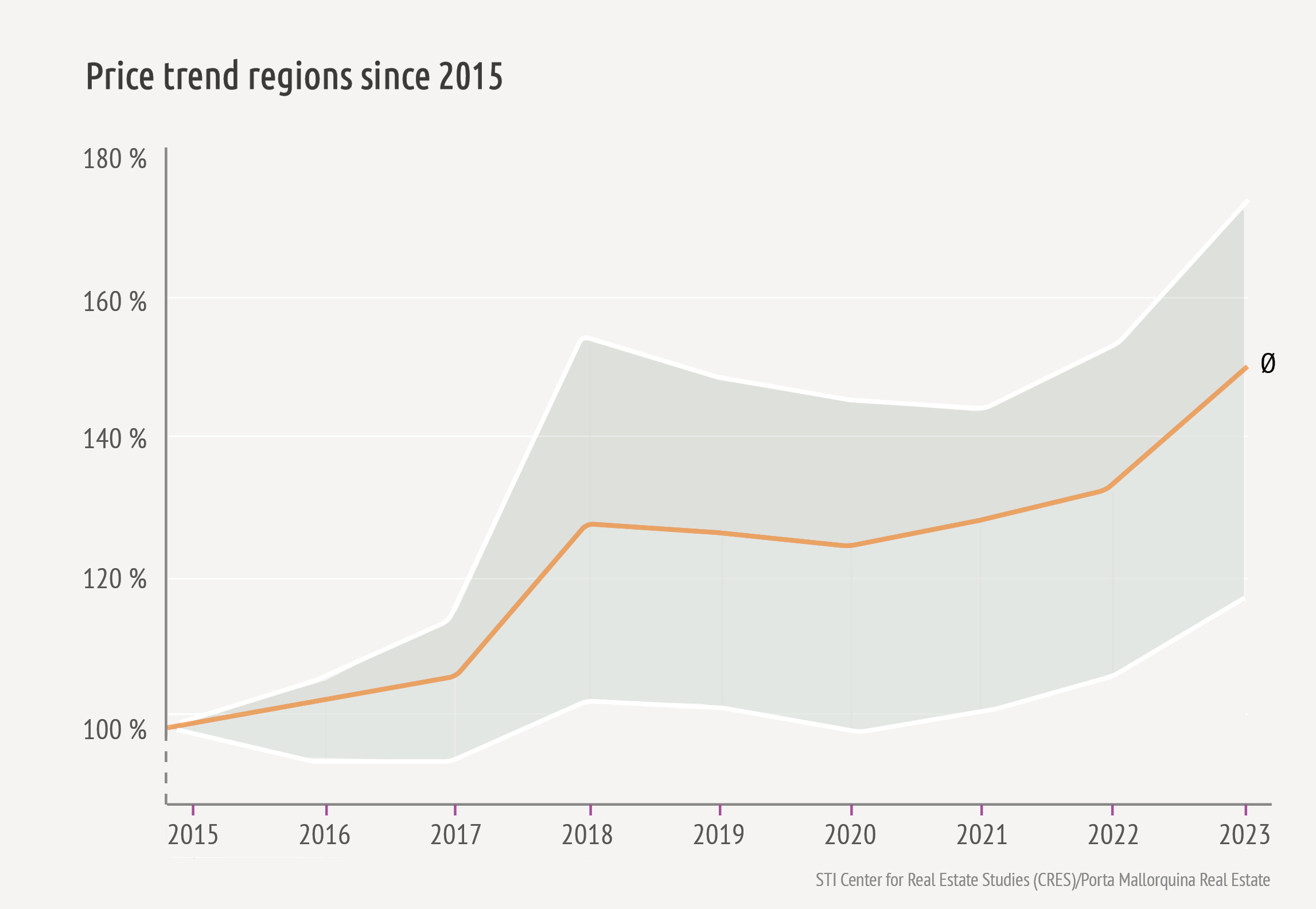 Mallorca: Over 13 million visitors in 2022
In addition to property prices, the number of visitors to Mallorca and the Balearic Islands as a whole has also risen sharply showing that in 2022 Mallorca had recovered from the Corona shock. Last year, once again over 13 million people visited the Balearic Islands, only 3.5 per cent less than in the record year of 2019, and significantly more than the 1.7 million in 2020 and 6.3 million in 2021. In 2023, without further Corona variations and restrictions the amount of visitors is likely to exceed the numbers from 2019 or even 2018. Last year, for example, non-stop flights from the USA landed in Mallorca for the first time, and the numbers of flights are scheduled to be further expanded with the renowned American business magazine "Forbes" declaring Mallorca as the top travel destination for 2023. 
Outlook: Increased legislative restrictions slow down new construction and an increase in prices could be the result
Only those who have personally visited the island can fall in love with it, and even dream of owning their own property there. This means that the renewed increase in the number of visitors to the Balearic island will probably lead to a positive influence on price development. CRES expects property prices to continue to rise in the coming years, although possibly not in a double-figure percentage range as at present. More restrictive construction legislation, however, could prove to be an additional price booster.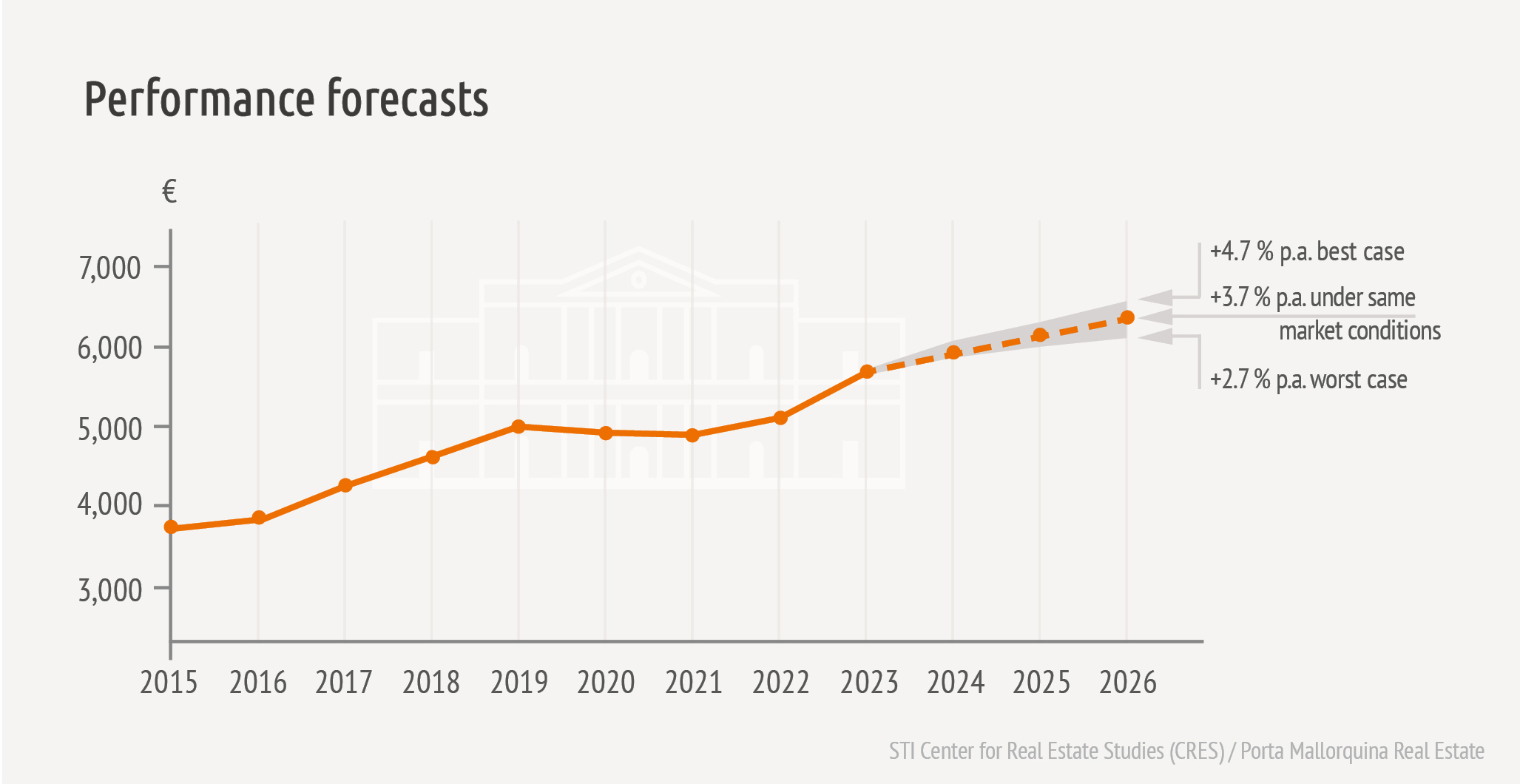 Porta Mallorquina Managing Director Timo Weibel:
"The amount of newly-built properties remains comparatively constant, but it can be foreseen that the amount of new projects will decrease and that these will be even more concentrated around the superior and luxury segments. In the coming years this could also inflate prices in all regions and property categories."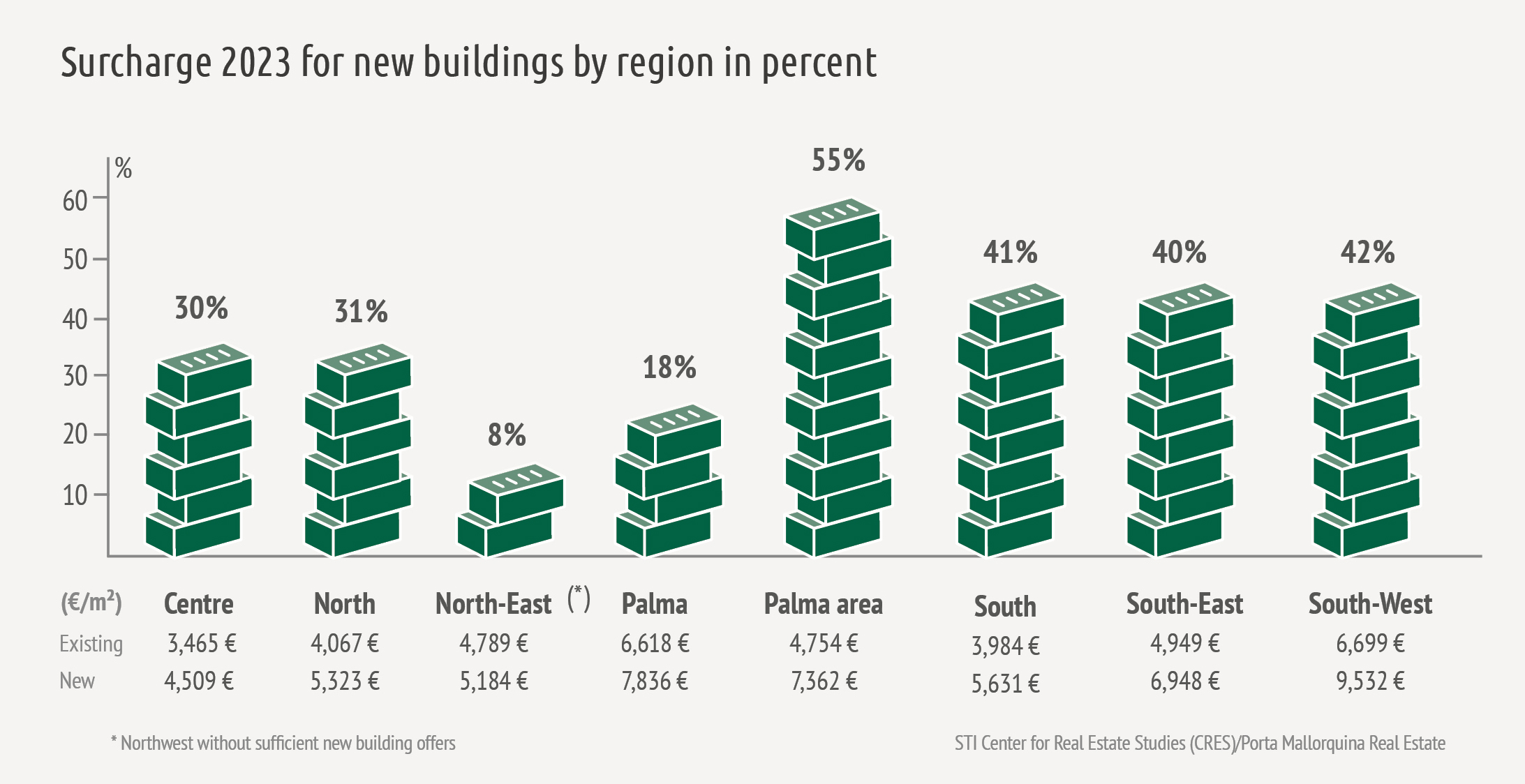 Download Mallorca property market study 2023
The comprehensive results of this independent and representative 9th Market Study Mallorca Real Estate.
Would you like to sell your property on Mallorca?
Or do you want to know what the current market price is for a flat or finca on Mallorca? Try our free Mallorca property valuation calculator.
Copyright: The infographics may be used and shared. The only condition is that Porta Mallorquina is mentioned and that this page is referenced as the source.