Mallorca: tech-cluster for tourism companies from all over the world.
The island focuses tourism know-how like no other place and the ParcBit near Palma has developed into a tech meeting point for the tourist industry.
Stefanie Claudia Müller, Palma de Mallorca
The Spanish head of government Pedro Sanchez said last year that he wants to make Spain a 'start-up nation'. The country fulfils all the prerequisites for this and the various governing parties in the Balearics have tried for years to initiate a start-up boom. The regional government wants to free itself of its dependence on the fluctuating seasonal tourism business which threatens to explode, in particular the cruise ships. Fifteen years ago during the internet bubble, however, many of the companies went bankrupt again. Now, however, the breakthrough seems to have happened. Camper, Hotelbeds, Viajes Halcon, Air Europa, Riu, Barcelo, Sol Melia, Iberostar, Porta Mallorquina and TUI are only a few of the large international companies which have maintained their headquarters or a business-hub in Mallorca, creating thousands of jobs and preparing to conquer the world from the island. During the past 10 years an innovative tech-centre has developed around them, almost unnoticed. This is where apps, booking software, customer-service innovations and artificial intelligence are created. Climate-change and the technology park ParcBit near Palma are playing an increasingly large role in this.
The Parc-Bit fills with life
Here companies such as Wireless DNA and the institute 'Servicio de Observacion y Prediccion Costera de las Islas Baleares (SOCIB) research the consequences of marine and global warming. The park, opened in 2002, specialised during its first phase in services related to hotels, cruises, tour operators and online booking. It now also wishes to enter other areas due to the increasing importance of climate change, for example renewable energies. Designed by the office of British architect Richard Rogers the visually very attractive and sustainably-designed park already functions mainly with solar energy.
Mallorca is ideal as a world-wide cluster for innovative and sustainable tourism, with prestigious colleges and technical schools and yearly almost 14 million foreign guests visiting the island. This make it a very suitable place for market research companies who can find here a mixed bag of people from all over the world and from all social levels. Mallorca is, however, is also interesting for tourist booking centres which can draw on the necessary multi-lingual personnel. In this field, where salaries are still lower in Mallorca than, for example, in Germany the most jobs occur.
Low salaries, but high rents
TUI now occupies a complete building in ParcBit with its booking centre, and the Dresden-based customer-service provider Gevekom GmbH recently opened a hub on the island  and is desperately looking for personnel. Life in Mallorca for companies has,however, become dearer over the past years apart from the salaries. The rental prices around Palma have risen to the level of those in Munich due to the enormous demand.
"In spite of that it is still interesting for many international companies to move here, as nowhere else in Europe are so many international air connections available, or so many competitors concentrated in one place",
says Mallorcan entrepreneur Ray Alabern whose company, Juniper, has expanded from Palma to America.
Life is, however, cheaper far away from the chaotic traffic conditions and the tourism in ParcBit which is managed by the state foundation Fundacion Bit. They offer, for business start-ups, offices at affordable rental prices which, however, are still not cheap at 10 € per sqm. Included in the rent though is a complete ecosystem of services including media communication, finance possibilities and the use of conference rooms. Connections are also rational as many of the customers are only just around the corner.
Clusters for the holiday industry
Over 170 companies already do business here, most of them start-ups but some, such as travelgateX or Logitravel are already firmly established on the market. Some of the entrepreneurs and personnel stayed on the island for personal reasons whilst others, like the 31 year-old Englishwoman Charlie March who works for the booking platform Jetstream, deliberately chose the island as a job location:
"Mallorca is ideal for us because we are located so close to our clients".
The b2b company markets apart-hotels on platforms such as Airbnb. Its proximity to the university is expected to bring even more concentrated entrepreneurial innovation in the technology centre in the future, and around 150.000 sqm are still available for use.
The ParcBit is not yet a 'Silicon Valley Mallorquin' as some of the Balearic media are already reporting, but it is living proof that the island is becoming ever more interesting as a work destination and already over 3.000 people work here. Many parts and areas are still not used but in recent years the complex is becoming increasingly important as a cluster. The parking area at the front of the ParcBit is already full and provides over 15 charging stations for electric cars, and the numerous bars situated between the buildings, which are arranged according to their type of business, are full of life. Most of the international founders and their employees are between 25 and 45 years old. They assist each other, exchange experience, send their children to the international campus schools or work out together in the various fitness facilities.
"To work in such an ecosystem makes everything simpler. We save time and money",
confirms March.
The 10 largest companies in the Balearic islands
Turnover 2018 in billions of euros
Air Europa                1.8
Hotelbeds                 1.7
Hotelbeds Product  1.4
Viajes Halcon           0.99
Avoris Retail Division  0.92
Gas y Elect. Garner     0.64
Criteria Caixa               0.6
Melia Hotels                0.5
Hotelbeds Spain         0.45
Beds on Line               0.43
Quelle: El Economista
Mallorca relies on 'Sun & Data'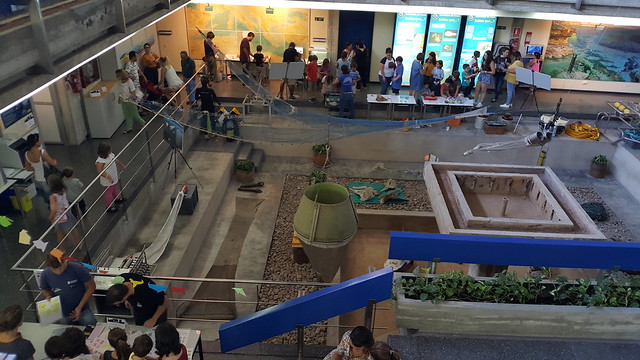 The new marketing slogan of the technology park has already become one of the island's slogans: 'Sun & Data'. "We are already successfully visiting job fairs and promoting our 3-week summer tech workshop for company owners" says Maria Antonia Aloy Bestard, responsible for press coordination. Of course not everything is rosy in the Balearics and the ParcBit, and unemployment is up to 17% over the national average. Although there are around 7.300 industrial companies many are small or individual undertakings such as translators, programmers, designers or architects, and most jobs in the hotels or coastal gastronomy are still seasonal. The real estate business differs from region to region and building contractors in Mallorca regularly go bankrupt.
The political concept of the ParcBit is nevertheless successful.
"We are not there ourselves but but we still profit from the cluster which attracts talent to Palma"
says Alabern from Juniper which now also develops handling-software. More and more people are also coming to study or for practical training. Mallorca is also a popular Erasmus location. The 'Escuela de Turismo Balear' in the centre of Palma has become one of the most highly regarded training centres in the industry. For the hotel sector there is the 'Escola d'Hoteleria de les Illes Baleares', and the state university UIB already has  a very good reputation in the technology branch.
Quality of life attracts polyglot talent
Mallorca is, however, not an easy place to work as it is primarily a holiday island, but as place to live the island is ideal for young and young-feeling people. Including 46 year-old Netty Kalablut who returned to the island after a short working/living interlude in Madrid to work in the tourist sector:
"Here there are numerous jobs for people with somewhat oblique working backgrounds like mine, not only in hotels but also in booking centres and, of course,  in everything to do with holiday real estate"
says the German. As she speaks 3 languages fluently, including Turkish, her talents are in demand on the island even without a pompous academical education and certificates:
"The salaries are, as almost everywhere in Spain, very low in relation to the cost of living, but the quality of life in Mallorca is much higher than, for example, in Düsseldorf where my family live. I am prepared to pay that price".