1 property for sale in Port de Soller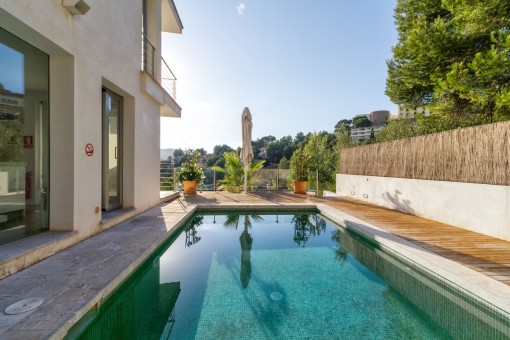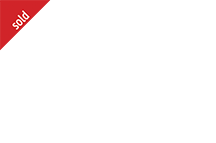 Port de Soller, Modern semi-detached house with private pool, guest apartment and sea views
constructed:
223 m²
plot area:
-
bedrooms:
4
Porta Mallorquina - your leading real estate agent in Port de Soller!
You are looking for a property for sale in Port de Soller, or have a question regarding our real estate offers in Mallorca? You were not able to find the ideal house in Port de Soller? Then please call us on +34 971 698 242, or send us an email to info@portamallorquina.com. Our Porta Mallorquina real estate agents in Port de Soller will be pleased to asist and will help you find your dream property.
About Port de Soller and surrounding area: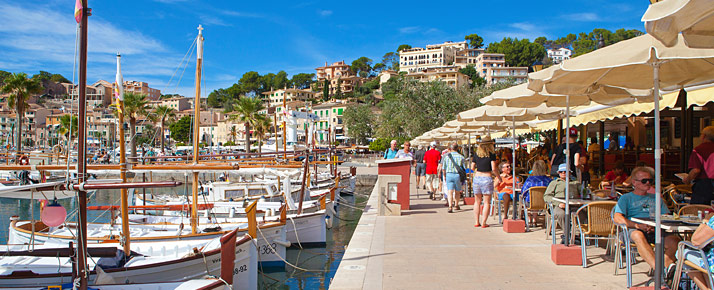 Restaurants in the port of Puerto Soller
The picturesque harbour town is a first class village for residents and tourists. Port de Sóller has an almost rounded bay and is therefore the only protected harbour at the edge of the Tramuntana mountains. Port de Sóller is an enchanting place with architecture reminding of Menorca but at the same time spreading an ambience of the French Riviera.
Port de Sóller – a fishing village with a French touch
. Actually a close relationship to France is part of the tradition: between the 17th and 19th century active trade relations were held with France. There Sóller's citrus fruits were especially appreciated. In these days, reaching France across the sea was considered to be easier than to get to Palma by donkey cart (only in 1912 the famous train "Red Flash", being a comparatively comfortable way overland, was established). Many visitors are still coming from France, but also from Germany, the United Kingdom or from the Spanish mainland. The community of residents of Port de Sóller is also very international.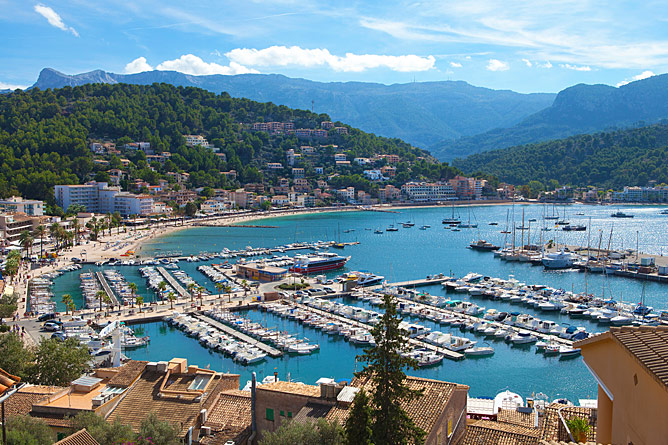 Overlooking the Port Soller Mallorca
Apartment are being preferred
Especially modern apartments frontline to the harbour are very popular. These sought after apartments dispose most of the times of sunny terraces and spectacular views to the bay even if they are situated at the hillside. In Port de Sóller every kind of property can be found, from small fisherman's cottages, village houses with Art Nouveau elements up to country houses. Although living space is precious as there is not much more left to build, now properties are being modernized. This attractive coastal village with approx. 3.000 inhabitants is a world of its own and offers everything that you could wish for: mountains and the sea. You do not really need to go to Palma as everything what makes life beautiful is found at the harbour or only 5 minutes away in Sóller.
Where else is perfect for strolling along the streets?
Only a few years ago the main road has been converted into an ample pedestrian area leading alongside the bay and bordered with Palm trees. Thereby the village has been very improved. Only a small street with reduced traffic is being used by residents and suppliers. The antique train of course is still going along that road. The old wooden wagons communicating between Sóller and Port de Sóller are belonging to the most popular attractions and they are granting a nostalgic feeling. The previously small beaches south of the harbour, Platja des Través and Platja des Repic were enlarged and filled with fine sand.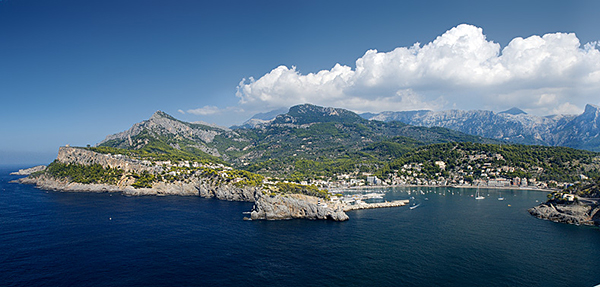 Stunning sea views on Puerto Soller
The excursion boats to the bays of the relatively unknown Cala Tuent and to the spectacular pebbled beach in a rocky gorge – Sa Calobra can be taken at the harbourside. Some hiking tours are also starting at the harbourside, as for example the route to the lighthouse Cap Gros lasting less than one hour and granting a fantastic view over the bay and the mountains lying behind.
For sportsmen and gourmets
Port de Sóller offers attractive possibilities for water sports, among others a surfing school, a sailboat hire and other bathing facilities, also suitable for small children. Directly behind the beaches a lot of shops, boutiques and numerous good restaurants can be found.
To be recommended: Es Passeig, Nunu, Só Capricho, Nautilus or the fine Es Faro directly at the light house with spectacular sea views. Swedish people opened the Hotel Esplendido which is opened in winter and also available for non-hotel guests to have a meal. The very romantic Agapanto is directly at the beach offering good live concerts, beach parties and beautifully prepared dishes of the healthy Mediterranean kitchen which was declared immaterial UNESCO world heritage. The Jumeirah hotel at Port de Sóller is the most expensive luxury hotels on the island and reveals a lot about the attractiveness of this special coastal village.
>