4 properties for sale in Caimari
Real estate agent in Caimari, Mallorca
You are looking for a property for sale in Caimari, or have a question regarding our real estate offers in Mallorca? You were not able to find the ideal apartment in Caimari? Then please call us on +34 971 698 242, or send us an email to info@portamallorquina.com. Our Porta Mallorquina real estate agents in Caimari will be pleased to asist and will help you find your dream property.
About Caimari and surrounding area: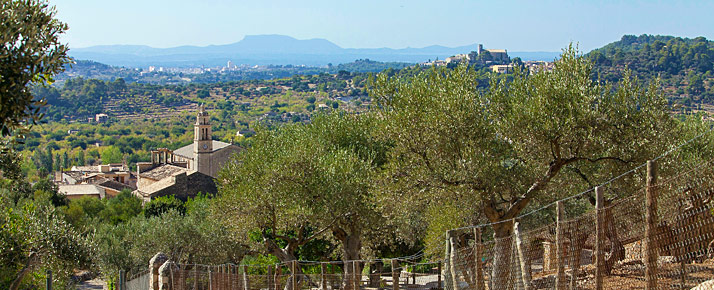 Caimari - mighty mountain silhouette of the Tramuntana
Caimari is a picturesquely situated village, which belongs to the municipality of Selva. It has about 700 inhabitants and is known beyond the country's borders for its olive oil production.
A fantastic location
The picturesque Caimari is perhaps familiar from the one or another picture book. Before the mighty mountain silhouette of the Tramuntana, the pretty village is perched on a small hill, as if it wanted to pose for the cameras. And even within Caimari there is no shortage of postcard images. For example the hillside location of Plaza Major with its numerous bars and restaurants. Here you can listen to the latest gossip of locals or just enjoy the peaceful village with a "café con leche". Mondays sees the beautiful landscape filled with the popular weekly market. Just as the parish church dates from the 19th century, many modern houses have been built in the traditional way with natural stones, making Caimari a little more picturesque.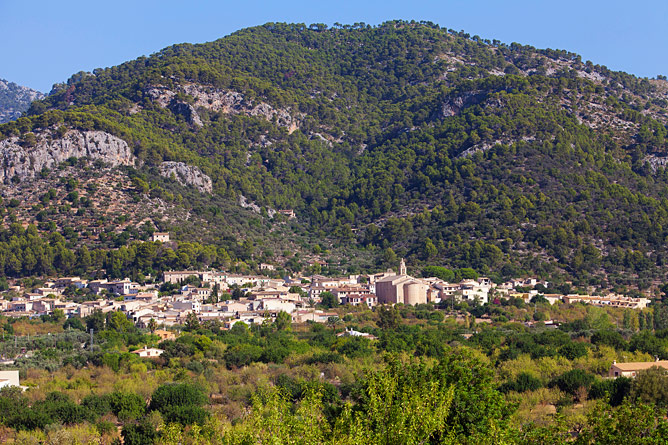 Awesome Caimari and Tramuntana
A village in the character of the olive tree
At the back of Caimari the spectacular mountain scenery of the "Serra de Tramuntana" initially starts with a centuries-old landscape, on which primarily grow olive trees. The area of Caimari is the centre of the Majorcan olive cultivation. Anyone interested in the preparation of delicious oil, should visit the historic oil press "Sa tafona de Caimari" that was once powered by donkey power. This is possible every third weekend in November, when in Caimari the popular "Fira de S'Oliva" takes place. At this time the streets of the village are lined with olive branches and everywhere you are lured by stalls where olives, but also almonds and Majorcan beers can be tasted. A classic car show, a falconer and musical performances round out the program.
A must for Mallorca lovers
Caimari has preserved its authentic charm and due to its picturesque location and its many stone houses it is one the most beautiful villages of Mallorca. With the exception of cyclists who pass by here on the way to Lluc station, only few tourists discover the town and its many charms. Besides the proximity to nature, Caimari also offers proximity to the third-largest town on the island. In Inca which is only 10 minutes drive away, you will find everything you need to live comfortably.
Houses in Caimari
>